I first discovered Paula's dolls on Face Book. Her pieces have a distinctive, detailed and ornate style. I reached out to her and asked her if she would submit to teach at ADAA 2015 and was thrilled when she accepted! Her work is available for sale in her Etsy shop and 2 real-world galleries: Fantasy and Stone Gallery in Eureka Springs, Arkansas, and Gallery 307 in Russellville, Arkansas. Her work has also been featured in Art Doll Quarterly, Soft Dolls & Animals and Doll Collector.
Paula is teaching two 1-day cloth classes for all skill levels at ADAA 2015: Razzberry Blue Garden Elf and MerFairy.
Paula introduces herself this way:
Hi there, I'm Paula McGee. My handsome beast and I live in an itty bitty house in Dover Arkansas (an itty bitty town) AND also in an even smaller home, on 18 wheels! A big rig I've named Big Red Beaulah. Hubs is a truck driver and I'm a doll maker. I love doll making so much and my husband is so supportive of me doing it that he makes room for me to bring a little bit of studio with me on the road.
I made my "Mobile Art Studio" out of a thrift store find of a sturdy old black suitcase. Of course I painted it bright colors and stuck some pretty trim on it! It holds everything I would need for a week on the road, three shoebox sized plastic boxes and a box of embroidery flosses, beads and a lot of presewn body parts!
Amy, AnLiNa Designs: Hi Paula! Let's start by you telling me what kind of dolls you create and what draws you to this type of sculpture. Do you focus on realism, fantasy, caricatures or some other type of figure?
Paula: I mainly make cloth soft sculpture because this medium has always fit into my life. I can take it with me wherever i go. I love using natural and luxurious fabrics. I draw and paint stylized faces on my figures and dress them to the last detail mainly because I am influenced by, and always have been, my collection of exquisitely illustrated fairytales and storybooks and mother goose nursery rhymes…. I'm certain even my dreams are stylized!
I love folklore as well, it tends to be a bit more creepy than storybooks for children and someday I want to get more into that theme. With creepy witches and the pretty ones too, Shakespearian tempests and ghosts and other characters draw me in as well. As for what type of figure I focus on, it's always fantasy with me… everyone should have wings and pointy ears!
Amy, AnLiNa Designs: Where did you start your artistic journey? Did you always know you wanted to be an artist?
Paula: I've sewn and created as long as i remember. I always made things I wanted to wear because I couldn't afford the ready-made prices as a teen. I made dolls and toys for my children then I found that premiere issue of Soft Dolls & Animals which got me thinking a whole new way and I began designing.
Amy, AnLiNa Designs: Are you a full time artist or do you have a day job? If you are a full-time artist, when did you make the leap?
Paula: Full time artist (unless you count that my husband is also a full time job, LOL) I'm kidding! We've only been married 5 years and between the two of us, we have 6 kids!
I've always, usually been self employed with jobs mixed in here and there when i needed a regular paycheck. I've been a sous chef, deli girl, small grocery store clerk, a tailor, and seamstress for a local university theater production. I owned my own custom sewing and alterations shop for a few years but just closed that last year. It was very successful but good steady help is so hard to find. I dreamt of designing new art dolls but was just so overwhelmed with clothing alterations and stress that my health was becoming a problem. I needed rest and art dolls had to get born! My hubs took up truck driving again and after it was safe for us i closed the shop and got our last child graduated from high school… Now we're almost free spirits!
I'm back into the swing of being doll maker, designer and teacher again! I go on the road with the handsome beast and love taking my work with me, though I still need to get a few things to make the business run smoothly. Such as rogue pirate internet WiFi service… LOL! Soon my pretties, soon it will be perfect!
Amy, AnLiNa Designs: Where do you find artistic inspiration? Do you keep a journal?
Paula: My mind is never still, ideas all the time! I find inspiration in everything, in people, in nature, in my children (who all happen to be various ages of 20 something's). I keep sketchbooks everywhere and always have one with me. Except for occasions when I resort to drawing on a napkin.
Amy, AnLiNa Designs: Describe your process for starting a new piece. Do you know exactly how your creation will turn out before you start sculpting/painting or do you let the piece develop as you work?
Paula: Hmm, my process… because I work in one main genre, fantasy, its easier for me now than in my beginnings…. when I couldn't focus on one theme because i wanted to do too many!
Recently in my process I work on several dolls of the same size and style at a time. Changing details and little things about each one such as thinness/thickness of body and limbs, leg length and such so they look like a little family or tribe of fairies or brownies. I only do this with the very small dolls.
When i begin a larger doll (18 -43 inches), I will begin with some costume research OR research a fairytale character OR an object such as a ship. And incorporate that ship into the doll at some point. I'm loving Marie Antoinette at the moment because I'm creating a scene in the hairstyle.
I don't know how the doll will turn out before I start. The doll usually takes on her own personality. And i love to create and build everything for each doll. I make little custom chairs, stands, and even the tiny wooden houses, ships, and bird nests for their "head-scapes".
Amy, AnLiNa Designs: Do you believe you have a muse? If so, how does she express herself? What happens if you ignore her?
Paula: I'm not certain I have a muse but I love that whole theory! I have recently begun meditating, sort of…. and taking better care of myself. Wait, I'm getting to the muse part… Meditation helps me to ignore stress and when this happens my art thoughts seem to flow more steadily. Instead of too many ideas all the time I'm actually able to focus on fun glittery projects and how i want or need to get them accomplished….
Just through writing this answer I can see my little bright sparkling muse sitting atop my frizzy curly bun of a hair-do… I shall name her Sting!
I imagine without "Sting" around stress comes back…. yuck. And now the answer to "do I believe I have a muse?" Is "yes" I believe i have one now, LOL!
Amy, AnLiNa Designs: Describe a day in your studio when you have no other obligations. How do you find time to create when you do have other obligations?
Paula: I look forward to days when I have hours to myself… Create! Create! Create!
I have boycotted housework (as my family does the same to pursue better activities). So too am I on a quest for more art time. Besides, I want to be remembered for that awesomely colorful fairyful studio… Not for having a spotless house, wink wink…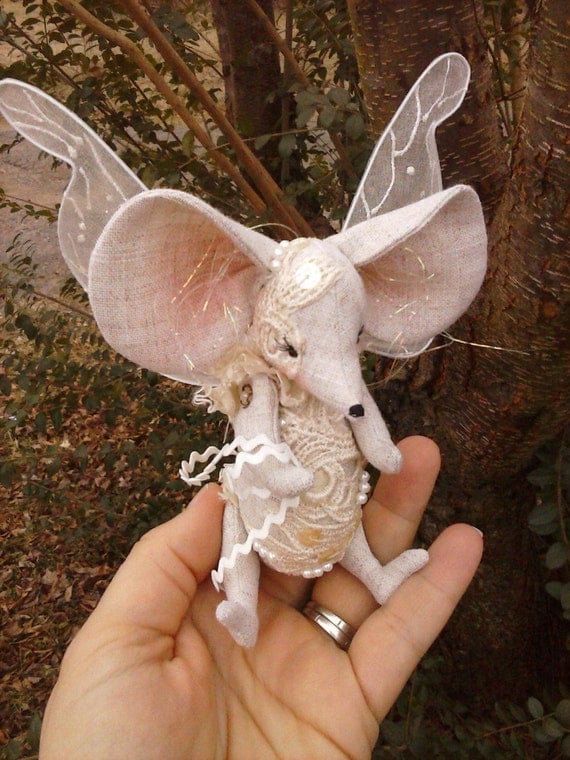 Amy, AnLiNa Designs: You are making me giggle, as I just spent half of my winter vacation from my day job purging parts of my house, including my paint studio. Describe an idea that you have that has yet to be born.
Paula: Picking just one idea? To talk about? There are so many in my head, maybe that's the problem! I do have a new one that I work on, then put away, then work on when I get more thoughts about her. She's very detailed and jointed at ankles knees hips. And of course she will need arms, so i just work on her as the ideas come to me. Sometimes it's not all there for me to grasp right away.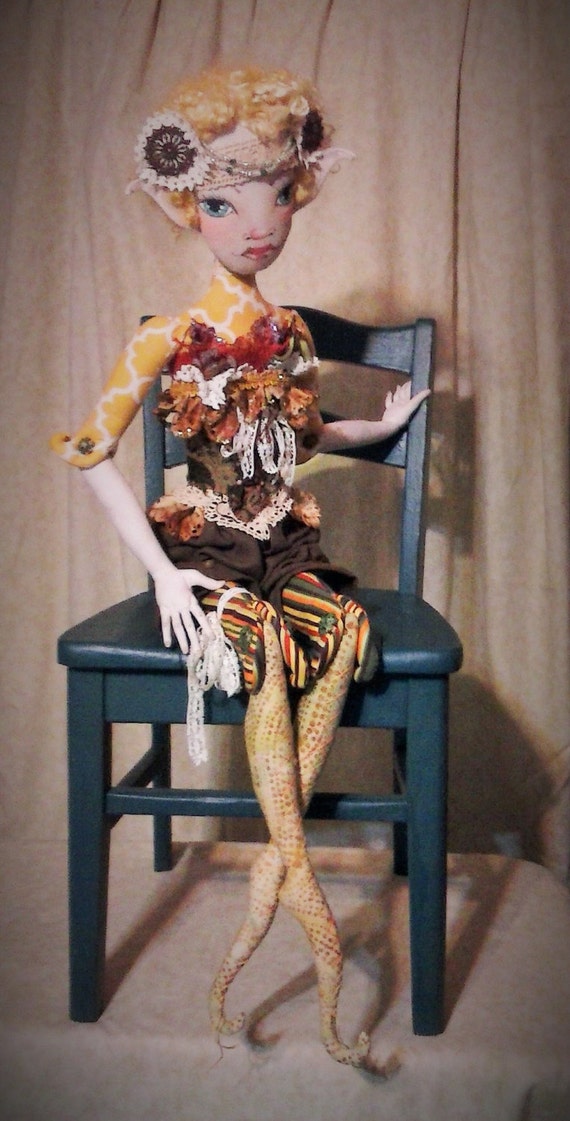 Plus i have three big boxes of files of dolls I've made. I work on making those patterns available (but i very much dislike the instruction process) as i can get to them. Maybe I'll write a pattern book!
Amy, AnLiNa Designs: Do you participate in a regular art gathering, critique group or other face to face meeting for the purpose of discussing or creating your sculpture:
Paula: I don't. But i do have several artist friends (painters, writers, sculptors and art instructors), and we do like getting out of our studios to air and have coffee together. It's a fun way to see creativity through a different perspective.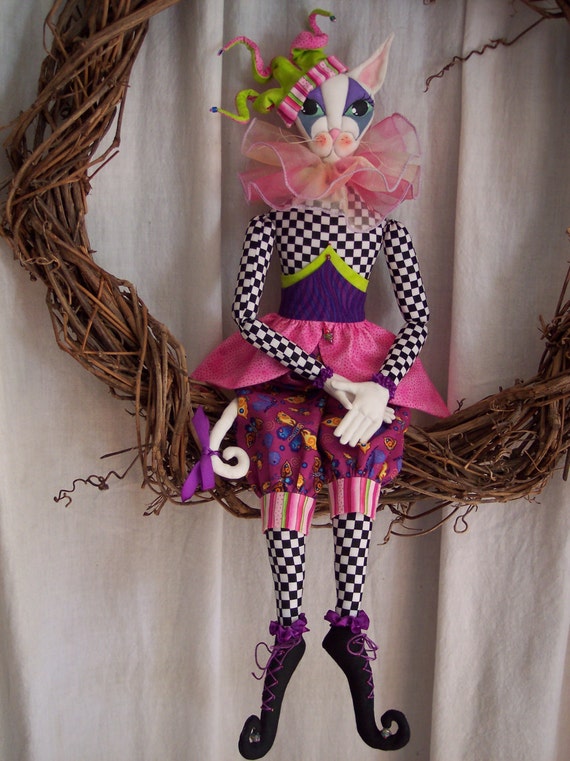 Amy, AnLiNa Designs: What is your favorite part of teaching?
Paula: Sharing with those who love the art of the doll, smiling and having fun and always learning from each other!
Amy, AnLiNa Designs: Thanks so much Paula!
Paula is teaching two 1-day cloth classes at ADAA 2015: Razzberry Blue – Garden Elf and MerFairy. You can see more details about both classes by selecting Paula's page from the Workshops menu.